Student Life
Professor Von H. Washington, Ph.D.
Welcome to student Life. The information on these pages was selected to help you understand the African American theatre scene, past and present. There are notes, commentaries, articles, scripts, and historical references that are designed to add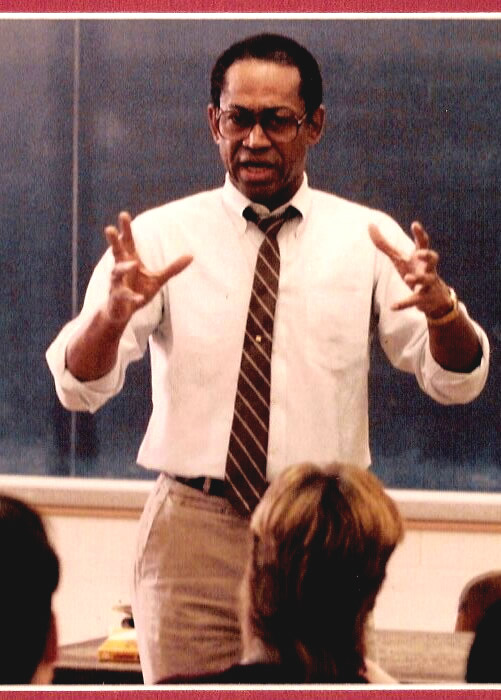 depth and understanding of the subject. In addidtion, there are links to other information collections, from around the world. Collections such as: alexanderstreet.com. You can also find copies of your class syllabi and other information to guide you as you research the subject. Most of the material was gathered for students in my Introduction to African American Theatre class:
Description: A survey / lecture course examining the activities and developments of African Americans as evidenced through their theatre, with emphasis on history, philosophy, dramatic creations, criticism, and socio-psychological concerns. Includes lectures on the theatrical contributions of Western and African civilizations.
Rationale: Traditionally, the American approach to the study of World theatre begins with a brief description of ritual in Northern Africa and then progresses quickly to the developments of Classical Greece. It then moves forward to Italy, England, Spain, Germany, Russia, and the USA. As in many cases with American historical studies, the process of examination is done from an Anglo perspective. As a result, the contributions and activities of African Americans, and other ethnic groups, have been ignored.
Click here for copies of class syllabus: Syllabus
References:
The Destruction of Black Civilization by Chancellor Williams
The Stolen Legacy by George G.A. James
Black Drama by Lofton Mitchell
Africans in America
I'll Make me a World
Theatre Companies
Informative Sites
Africa and Ritual:
Classical Greece:
Roman and the Middle Ages:
Neo-Classical:
The Renaissance:
The Enlightenment:
Western Civilization:
Early American:
Modern:
African American:
The Hip Hop/Rap Generation:
Theatre Companies:
nft.org (New Federal Theatre of New York) / Plowshares.org (plowshares Theatre of Detroit , MI) / Crossroadstheatre.org (Crossroads Theatre of New Brunswick, NJ ) / The Black Rep.org (St Louis, MO)/ North Carolina Black Repretory theatre, Winston-Salem, NC ) / Kunta.org (Kunta Theatre of Pittsburgh, Pa) / penumbratheatre.org (St, Paul MN / blackenblues.com (Blacken Blues Theatre, Dallas, TX) /washprod.com (Washington Productions, Inc., Kalamazoo, MI)jubileetheatre.org (Jubilee Theatre of Forth Worth, TX)
The River to Cross
By
Von H. Washington, Sr.
Adapted from
MY FAMILY'S JOURNEY NORTH
By
Valerie J. Osborne
&
Von H. Washington, Sr.
Synopsis
This story of happiness, intrigue, and danger, takes place in 1849 as William Bright Connor and his entire family travel to the American North, to escape the ravages and complexities of southern slavery.
| Information | Information | Information | Information |
| --- | --- | --- | --- |
"William Bright Connor was born a free man near Raleigh, NC. When he was a small boy, he was leased out for labor until he was 21. When this lease expired, he married my grandmother, Elizabeth Scrugs, to save her from the same fate. Before leaving North Carolina they had seven children. When Franklin, who was third to the e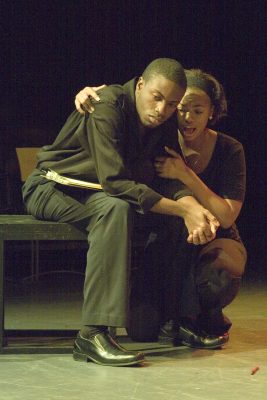 ldest, was 15 years of age, the father decided to leave the south because of the fear and disadvantage for proper care of the children. At this time he owned and operated a turpentine grove. He sold this and, with his horse and two wheeled cart, slipped away [in the night] with his family, including an aunt [Rose] and three Tyler boys who were orphans." Ora Seaton Clark
MUSIC: THEME UP AND UNDER
ANNOUNCER: Time draws near.
SOUND: CLOCK TICKING
ANNOUNCER: And the sound of footsteps can be heard along Michigan Avenue.
SOUND: FOOTSTEPS – STREET NOISE
ANNOUNCER: As patrons begin to arrive, to watch and listen to an exciting audio adventure by "All Ears Theatre," brought to you from the elegant performing facilities of the First Baptist Church in downtown Kalamazoo, Michigan and broadcast by WMUK 102.1 FM – Western Michigan University.
MUSIC: THEME UP AND UNDER
ANNOUNCER: Everyone is in their seats now, so listen as the "All Ears Theatre" players take you to the American south in the story of "The River to Freedom" written by Von H. Washington.
MUSIC TRANSITION INTO
SOUND: MUSIC IN AND OUT
Annc: This story is based on the memoirs of Ora Seaton Clark, great-granddaughter of William Bright Connor of Covert, Michigan.
Narrator: On a cool fall night in 1849, in the foothills of the Alleghany Mountains, near Raleigh, North Carolina, twelve years before the American Civil War, William Bright Connor, a free black man, burst through the door of his home, in the middle of the night, and shouted to his family—
Pa: Get up and get your things together. We got to leave right now!
Narrator: Young John Connor, William's ten-year-old son, wiped sleep for his eyes and asked his father—
John: Where we going, Pa?
Pa: No time for talking son. We got to get a move on.
John: But why?
Pa: Because we can't live here no more. Now do what I say. No more talk.
John: But why, Pa?
Pa: Raids son, raids!
John: Al right Pa. Al right.
Narrator: Young John knew what his father meant when he said raids because folks in the area had been talking for days about kidnappers raiding people's houses. In 1849, North Carolina was a slave state and all black people, free or slave, lived in constant danger of being captured and carried off into slavery.
SOUND: FEET MOVING ABOUT IN HURRIED PATTERNS AND HEAVY BREATHING. FAINT VOICES.
John: Where we going, Pa? Where we going?
Pa: We going North son. We're going north.
John: We gonna be safe there, Pa?