Current News
"Information and Entertainment for Everyone"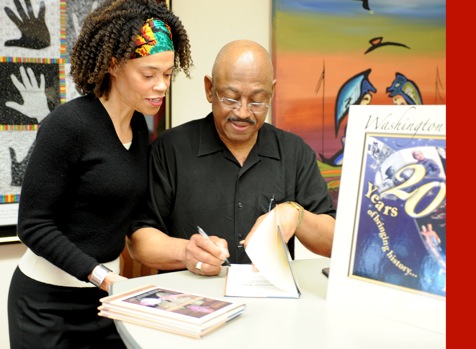 Fran and Von at the Book Signing
The Latest News:
Washington Productions, Inc. will present a staged reading of the play, Justice for Maurice Henry Carter. Written by Donald Molnar and Alicia Payne of Toronto, the play tells the true story of how a middle-class white man and an indigent black man from Benton Harbor, Michigan came to call each other "brother," as they work side by side for justice in a case of wrongful Carter's conviction. Veteran actor and retired broadcaster Garrard Macleod will read the role of Doug Tjapkes. Von Washington who, recently portrayed Carter in a staged reading of the play at Calvin College in Grand Rapids, MI, will reprise his reading assignment. Also appearing are some of Kalamazoo's most prominent artists and citizens: Dr. Romeo Phillips, Buddy Hannah, Von H. Washington, Jr., Sid Ellis, Denise Willhite, Sharon Williams, Anthony Hamilton, Bertha Barbee McNeal, Tim Smith, and Sharon Russell, along with Dr. Calvin McClinton, Director of theatre at Lake Michigan College in Benton Harbor and WMU performers, singers, and technicians. The reading, designed in the style of African Storytelling, includes vocal selections. It will be staged on the campus of WMU, in York Arena in the Gilmore Theatre Complex on May 2, 3 and 4th, at 8p.m. with a 2 p.m. matinee on May 4th. The WMU Department of Theatre and the Racial Healing Grant are sponsors. There will be a brief talk back sesson after the 2 p.m. matinee on May 4, with several indiviuals involved with the case.
News Item :
What began as a small concept of teaching history on stage has led to the book, The Journey Begins by Dr. Von H. Washington. Washington is the director of Western Michigan University's Multicultural Theatre Program and Artistic Director of Washington Productions, Inc. The Journey Begins, which was released in May of this year contains two of Washington's most celebrated and treasured storytelling creations, Seven Stops to Freedom, and The Legend of Sojourner Truth, along with The River to Cross. Years ago I made a promise to many of the people who faithfully attended our productions that I would one day make my stories available for everyone to read," said Washington. "I was especially pleased when the request for them came from teachers, librarians, and the parents of the thousands of children who attended our performances. This is what I've always wanted, for people to like my stories well enough to want to have a personal copy of them. Von's second volume of plays, Views from my Window, will be released in the very near future. Both of them will be on the table and available during a book singing event at Willard Library, in Battle Creek, MI, on September 28th. Festivities begin at 6 p.m.
News Item : Looking for Talika in the Strawberry Festival, Aug 15-23
One of the scripts in Views from my Window, Looking for Talika, has been entered in the Riant Theatre's One-Act play competition at St. Clement's, 423 West 46th St., between 9 and 10 st St., NYC, Aug 15-23. (therianttheatre.com)
"An evening of shared memories turns sour when hidden suspicions erupt in an outpouring of accusations that threaten to destroy what has been considered an ideal relationship. It's a story about Don and Dee but it's also a story about you and me. The longer we hang around this planet dealing with each other the more time we have to break a promise to the ones we love. Or should I say the one we love. Oh well, you get the picture. Any way, Fran and I toured the show for over a year and everywhere we went folks were asking, " How do you know about our conversations? Were you in our house?" Well, no we weren't but I can just about bet that along the road of life and relationships, we all encounter situations just like this one. Make sure you see Looking for Talika at the Theatre at St. Clements at 423 West 46th St., (Between 9th and 10th Ave) August 15-23.
News Item : Kentucky at Sunrise, Sept 13
The Kentucky Raid, as it occurred in Cass County in 1847, will arrive in Cassopolis, MI, on Sunday, Sept. 13, 2009 at the Minority Coalition's 8th Annual International Festival. Dr. Washington will adapt his play, Kentucky at Sunrise, to tableau vivant. Tableau vivant is French for "living picture." The term describes a striking group of suitably costumed actors, carefully posed. Throughout the duration of eight different displays, the actors will not speak or move. Dr. Washington's performance has been generously underwritten by a grant from the Michigan Council for Arts and Cultural Affairs. The Minority Coalition seeks volunteer actors, singers, and seamstresses. If you would like to be part of this exciting project, please contact Ruth Andrews, 269-445-0269.
News Item : The Journey Begins selected by ASALH
On Oct. 2 Von will be one of the featured book signers at the National Convention of the Association for the Study of African American Life and History (ASALH), taking place at the National Underground Railroad Freedom Center, CN, Ohio. ASALH's mission is to create and disseminate knowledge about Black History. Established on September 9, 1915 by Dr. . Carter G. Woodson, the founder of Black History. The Association operates as local, state, and international branches promoting greater knowledge of African American history through a program of education, research, and publishing. Publishes the Journal of African American History (formerly the Journal of Negro History), and the Black History Bulletin (formerly the Negro History Bulletin). Publishes Black History products that promote the annual Black History theme including the "Woodson Review" magazine.
News Item : This and That
(1) Von to perform in Fences, by August Wilson at the Farmers Alley Theatre, Feb 5-21: Winner of the Pulitzer Prize, the Tony Award and the New York Drama Critics' Circle Award, Fences is must-see theatre! When Troy Maxson's rapid rise through the Negro leagues hit the ceiling of racial prejudice, this legendary baseball player was forced to let go of this dream for major league success. Years later, this Pittsburgh garbage collector's son has an opportunity to achieve the dream his father could not. Can Troy quiet his own demons enough to support his son, or will he strike out once more? Set in 1957, Fences is the heartbreaking story of a man and his last chance at bat. 7.
(2) All Ears, In the Wall: "Lock-On" A story based on the Folklore of the Underground Railroad New owners of an old farmhouse on a back road near Vandalia, Michigan, invite Community members to the house to investigate noises coming from behind a basement wall. As the evening progresses, the family learns that the house was once a safe house on the Underground Railroad and that over the years no one had been able to live there for very long because of the sounds. Community members feel that the house is cursed because of a shameful event that took place in the house just moments before the beginning of the American Civil War. Undaunted by these rumors, the family decides that if they are to live there, the wall must come down to determine what is causing the sounds. The inquest goes smoothly until the owners reveal a troubling part of the family history that threaten the life of a member of the family should the facts of the rumors be true. 8.
(3) Tambourines to Glory by Langston Hughes: WMU April 15 9.
As director of the Multicultural theatre program at WMU, Von will be directing Langston Hughes' old favorite, Tamborines to Glory in April, 2010. He will be joined by Gurtis Gulledge (Music Director), Vanessa Allen (Choral Director), and Dalette Anderson (Choreographer).
(4)The River to Cross will be one of five shows offer to Kalamazoo Schools by WPI for the up coming school season, Jan—thru—April. This story of happiness, intrigue, and danger, takes place in 1849 as William Bright Conner and his family travel to the American north, to escape the ravages and complexities of southern slavery. On a seemingly never ending journey that takes them through the Blue Ridge and Alleghany Mountains of North Carolina and Virginia, and on through the valleys and flat land of Ohio and Indiana, they face natural exhaustion and capture by slave raiders who, on several occasions, attempt to capture them and sell them into slavery, whether they are free or not. The Conner family is up to the challenge but in one encounter, success exacts a heart-wrenching price.
(5) A Seat for Rosa in Houston, Texas and The Dream Tunnel, in Detroit Michigan.
Last season, Two of Von's Storytheatre scripts were produced by the Black Theatre Program at Wayne State University (The Dream Tunnel) in Detroit Michigan, and by the Ensemble Theatre in Houston, TX (A Seat for Rosa). (For more info see scripts) This is the second year for both theatre companies and we are looking forward to more in the near future.
Fran and Von are working diligently to get all of Von's Storytheatre plays published and available for purchase. In addition, Fran and Von were kept busy last year as they performed no less than 30 productions for schools in southwest Michigan. In addition, they performed for 25 more for organizations throughout the state. The shows African American Folk Tales I & II, When Freedom Came, Mystery in the Bottom, Seven Stops to Freedom, and The Dancing Computer were offered form January through March. Plans for this season include ---------------------------------Hope we get booked by your organization. Remember, these productions are booked by schools, churches, faternal organizations, private companies, and social clubs, among others. Don't miss out.